Recently, a reader came across the following letter, and thought it might be of interest to us, after seeing a previous article on Woodville House. It consists of a prospectus for a school, which he suggested could well have been in the same building. An explanation for the address at the end as "Woodville, Leixlip", could well have been down to the fact that at the time, Lucan was in the same Church of Ireland Parish as Leixlip. One way or another, it is an interesting insight into the education of the day!

Read on, and if anyone has any thoughts on the matter, please get in touch with marylucannewsletter@gmail.com

A letter from Travers Hume to Earl MaCartney
"Glebe Hill Ardee October the 5. 1802.

My Lord,
I have a long time deferred writing to your Lordship 'till I cou'd inform you that I have left George with Mr. Austin, whose School independant of its publick Character is I imagine better a ???? for young Boys than any other in Ireland from the temper & disposition of the Master; his plan of Instruction I enclose, which I have been informed is strictly complied with, & some of his pupils now at the University are amongst the most distinguished there, his Number of boys is limited to thirty five.

"Enclosed:
BOARD AND TUITION Annually - - SIXTY GUINEAS.
WASHING (IF REQUIRED) - - TWO GUINEAS.
TEA (IF REQUIRED) - - FOUR GUINEAS.
WINE (IF REQUIRED) - - FOUR GUINEAS.

TERMS AND GENERAL PLAN, OF THE SCHOOL AT WOODVILLE, NEAR LUCAN, UNDER THE DIRECTION OF The Rev. GILERT AUSTIN, A. M.

ENTRANCE FEES - TEN GUINEAS.
DRAWING, MUSIC, DANCING, FENCING, &c. are charged additional, two Guineas Entrance and eight Guineas a Year each.
BOOKS, CLOTHES, &c. are also charged additional, other incidental Expenses seldom occur, and cannot be considerable.

Each Boy has a separate Bed.

Tuition will be understood to comprehend an extensive and liberal Course of CLASSICAL and SCIENTIFIC Instruction.

The CLASSICAL COURSE comprehends the Grammar of the ENGLISH, FRENCH, LATIN and GREEK LANGUAGES; the Latin and Greek Authors required for Entrance into the University, with which are necessarily connected the Rudiments of ancient ROMAN, GRECIAN and FABULOUS HISTORY, ANCIENT GEOGRAPHY, CHRONOLOGY and RHETORIC. Composition in Latin and English, both in Prose and Verse, form a principal Object in this Course; as also correct READING, just and graceful ELOCUTION, the structure of the ENGLISH LANGUAGE, and the Practice of conversing in FRENCH with a resident Master, a native of France.

The Scientific Course comprehends WRITING, ARITHMETIC vulgar and decimal, EUCLID's ELEMENTS, the Rudiments of ALGEBRA, of SURVEYING, FORTIFICATION, &c. the USE of the GLOBES, the first Principles of ASTRONOMY in THEORY and PRACTICE as applied to Geography and Navigation, &c. and the first Principles of NATURAL PHILOSOPHY and CHEMISTRY, which are all frequently illustrated by Experiments with an extensive Apparatus.

To this must be added a due Attention to external MANNERS and a serious Regard to all that concerns the great Interests of MORALITY and RELIGION.

Two Vacations are given in the Year, one of six Weeks in Summer, and one of four Weeks at Christmas.

No Deduction can be made for vacations or any other occasional Absence.

Accounts are sent in Quarterly, and become due on the 31st of March, 30th of June, 30th of September, and the 31st of December.

The Proportion only of the current Quarter is charged from the Day of Entrance: but on Removal the Charge is made to the end of the current Quarter.

AUGUST 4, 1800
The Rev. GILBERT AUSTIN,
Woodville,
Leixlip"



Note - Gilbert Austin (1753–1837)
Rev Gilbert Austin, born in Co. Louth, was an educator, clergyman and author. Educated at Trinity College, Dublin, he established a private school in Dublin where he taught the sons of Ireland's elite.

He held several clerical appointments in the Church of Ireland. In 1798, Austin became a minor canon of St. Patrick's Cathedral, Dublin. From 1816 until his death in 1837, Austin was Vicar of Laraghbryan (or Maynooth), a living to which he was presented by his former pupil, the Duke of Leinster.

Could the private school in Dublin have been at Woodville?
Rev Gilbert Austin and Woodville School Follow up!
Local genealogist, Mary Jackson came across the following pieces.

The following items were viewed and downloaded from www.findmypast.ie – 25 April 2017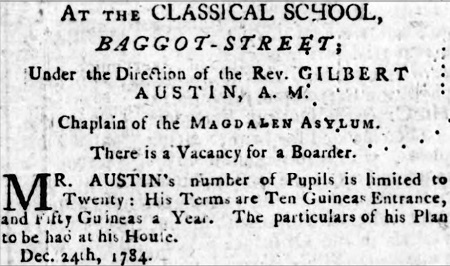 24 December 1784 - Hibernian Journal; or, Chronicle of Liberty - Dublin, Dublin, Republic of Ireland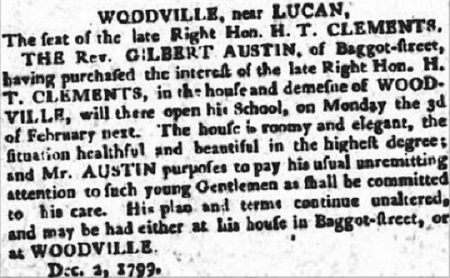 19 December 1799 - Saunders's News-Letter - Dublin, Dublin, Republic of Ireland
And something different – and not a good news story …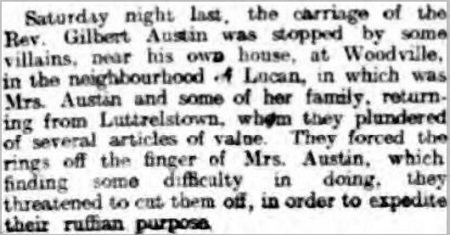 From 08 May 1903 - Dublin Daily Express - Dublin, Dublin, Republic of Ireland (quoting an article which appeared in the 'Dublin Evening Post' on 8 May 1800)

There you have it! The Woodville referred to in our article is the same Lucan Woodville House, with another strand of history now attached to it.

Well done and thanks to Mary J.
m.m.