<< Back to Main Local Interest page
Many years ago, back in the days of Frs. Con O'Herlihy and Liam Belton, an annual parish party was held either in the old boys' school or St. Joseph's hall, for all the parish groups and volunteers.

Many people did their party pieces, and one that made a lasting impression back then, was the late Sadie Caples, whose party piece was 'Song of Lucan' – all eight verses, with the chorus between each.

The song was probably not really appreciated by Lucan Newsletters teenage volunteers at the time – it seemed to go on and on, but it's something which was remembered down the years. Lots of people know snatches of it, and we were more than delighted when Triona Walsh delivered a handwritten copy of the full song to us recently.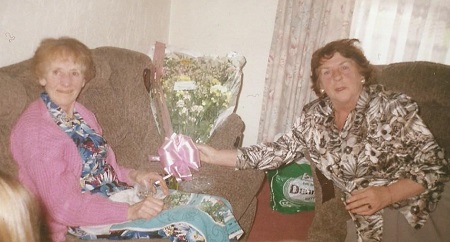 Sadie, who worked in Lucan Printing Works for many years (down behind the old cinema), is pictured with the late Una Sheridan (right), on the occasion of Sadie's 70th Birthday.
nbsp;
Song of Lucan
Lucan is a pretty place,
As everybody knows.
It's a truly rural little town
Through which the Liffey flows.

Chorus:
Then carry me back to the Lucan Spa
There let me remain
Among the meadows that I love
Down in the old Demesne.

If ere of city life you tire
And feel not very well,
Drink nothing but Spa Water
And live in the new hotel.
(Chorus)

And for accommodation,
There's no place can excel
The Lucan Hydropathic
And the grand new Spa Hotel.
(Chorus)

If ever you be down that way
Drop in and see the Mill
It's there the best of Irish Tweed
Is made by Mr. Hill
(Chorus)

You talk of pretty maidens
And faith unto my mind
A finer lot of girls than ours
You will not easily find
(Chorus)

The men in this locality
Are steady, brave and true.
They tie the strings of friends so tight
Which time will not undo.
(Chorus)<./i>

At noble sports and pastimes
Sure Lucan take the cake.
Show me football or hurling match
That Lucan could not win
(Chorus)

And when in Lucan
Don't forget our Anna Liffey Mill
Where Messrs Shackleton and Sons
And workers cure our ills.
(Chorus)