This Monday, 19th March – the Feast of St. Joseph – will be the 145th Anniversary of the founding of the Presentation Convent in Lucan.

The story of the foundation of the Convent is well known among locals, but following are some snippets from the Presentation Annals:

Presentation Convent Lucan crests a ridge that dips in giant, abrupt strides to a green valley floor. There the Liffey foams in molten silver over a weir, slides beneath the largest single-span bridge in Ireland and then curves out of sight between its water meadows. Everywhere there are trees, interspersed with houses that step gingerly down the slope. Hugging the valley side is the old Dublin-Galway road.

Coming from the Convent in Clondalkin, the Founding Sisters were Sr. M. Borgia Costello, Sr. M. Conception Kennedy, Sr. M. Magdalen Keating and Sr. M. de Pazzi Dunne.

On the eve of the feast Sr. M. Agnes went to the new convent to light the fires in welcome. Originally a member of the Carlow Community, she had done exactly the same ten years previously when the Carlow nuns came to Clondalkin.

Next day the quartet arrived by carriage, amid a shower of spring snow, and there they stayed for the next 127 years educating the children of Lucan.

The first superior, Mother M. Conception Kennedy, is remembered today by the window in the Nuns' Chapel. It shows the Presentation of Our Lady and is dedicated to the memory of Mother Conception's father who was a generous benefactor of the convent in lean times.

The convent was poor and cold. In front was a field of mud in which Mother Conception lost her shoe on the first morning when she went out to get her bearings. Comforts were few, but hard work and trust in God worked wonders. Kind friends aided in person as well as by sending gifts.

Among the first were the Morans, a family of tea merchants from India, who owned St. Edmundsbury. Mrs. Moran's delicate courtesy was almost embarrassing, for she not only catered for the Sisters until they were settled in but she even offered her footman to attend at lunch—an offer which was graciously declined but which provided grist for the mill of the wits in the community for many years.

The Centenary
In 1967, Presentation Convent Lucan was 100 years old. Locals will remember great celebrations with a High Mass at which Archbishop John Charles McQuaid, and President Eamonn DeValera were present. There were further celebrations including a Centenary Concert in which every pupil of the now Scoil Mhuire GNS took part.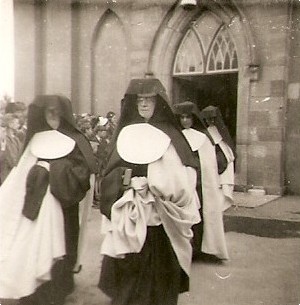 Pictured above: Srs. Catherine, Claire, and Michael.
Below: Srs. Magdalene (Philomena) and John Bosco, and maybe Sr. Joseph in the background.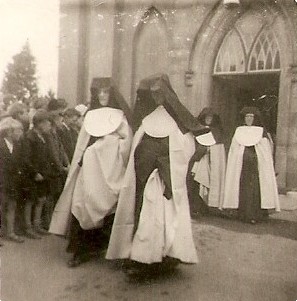 If I'm right, the above photos are from the procession after the High Mass. The nuns wore white capes over their normal habits. As far as I know, the only other time they wore these capes was on Good Friday. The habits themselves changed to a more modern version in the early 1970s.

The Altar Boys on the day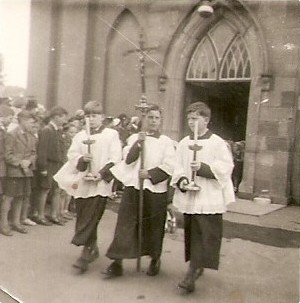 L-R: Noel Dunne and Declan Martin from Sarsfield Park, and we think Donal Riordan from Ballydowd.
I may be wrong on the names of the Sisters – the original photos are very small.

Thank you to Mrs. Carmel Cassidy for sending in these and some other photos, which we will bring you as space permits.

Mary Mulhall
Mary@lucannewsletter.ie