<< Back to Main Local Interest page
On 12th February 2015, star of the silver screen, Movita Castaneda passed away, aged 98, bringing to mind an event which happened in Lucan in the 1940s, and often referred to over the years, perhaps growing legs on the way.

An account appeared in Lucan Newsletter in 1975 by John P. Donohoe, a Garda on duty at the time:

"I Remember Movita
During the late 1930s a young Irish Guardsman named Jack Doyle hit the headlines. Of magnificent physique he had great pugilistic potential and as he mixed show business with boxing he drew the crowds in big numbers. He later left for America where after a short time he met and married the film star Judith Allen, recently divorced from her wrestler husband. The marriage was of short duration and he next married the pretty Mexican film star Movita, whom many will associate with that great American film "Mutiny on the Bounty".

They continued in show business and Mr. Rice who owned the local cinema invited them to do a show. If I can remember correctly the opening night was Easter Monday.

Prior to this Movita got in touch with the Police authorities and requested protection to be carried out in an unobtrusive manner back stage. Apparently the marriage had run into difficulties and she decided that this was the only course left open to her.

Jack was absent on the opening night but did arrive at a later stage. He was not in a pleasant mood and certainly his condition was such that he could not take any part in the show. He was given a timely but polite reminder of the position and warned that should the necessity arise it would be necessary to take certain action. As a result he wisely decided to take his departure - gave no trouble, and was not seen for the remainder of that night.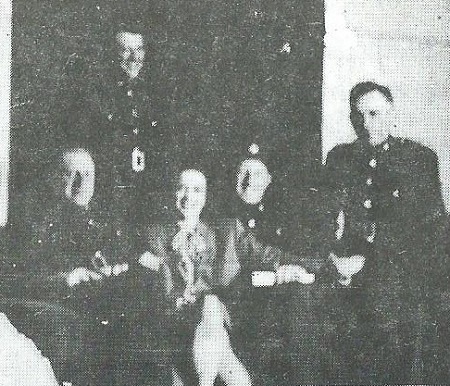 On termination of the show in an atmosphere of peace and quiet a number of snaps were taken - at rear Steve Corry, on right Jim Murphy, in centre Movita, and Sgt John Healy and left front John P. Donohoe."
The late Kevin Murray recalled the event in Some Lucan Memories
"The show in question was "Punch and Beauty". The stars were the famous Mexican film star Movita, later to marry Marlon Brando, and handsome Cork man Jack Doyle. This was the show that had drama on and off the stage, with many incidents during the two week engagement.

Some of the highlights –
Movita who was a world class soprano singing "Ave Maria", with two black eyes, also standing mute on sage during their duet of "South of the Border", the reason being that Jack was squeezing her hands so tightly she was unable to open her mouth.

The family of dance Lollie Flanagan standing on duty outside her dressing room in case Jack broke it down for a second time and dried to seduce her.

The spectacle of Italian harpist Silvio being thrown bodily amid the strings of his own harp, as the frantic stage manager tried to bring down the curtain, but in vain, and the audience were to witness a free for all on the stage.

As the warring factions spilled out through the rear entrance, they were confronted by the formidable Guard Murphy with baton drawn. He greeted them with the following words "The first man moves falls" and the first man to call his bluff was Jack himself. True to his word Guard Murphy brought his baton down hard on the side of Jack's head, but instead of falling Jack grabbed his assailant and dumped him head first into a large laundry basket.

The next man to attempt to stop Jack's rampage was the late Martin Keegan who at this period in his life was employed as an usher in the cinema. As Jack was trying to close the lid on the basket Martin struck Jack on the back of his head with his two foot torch, drawing blood instantly.

Unfortunately for Martin, Jack still remained on his feet. Before Martin could make a safe retreat Jack lifted him horizontally over his head, walked about twenty yards to where Mr. Rice had erected a large hen run and dumped him on top of it. Poor Martin was left bouncing up and down as if he was on a trampoline. During this episode the space between the side of the cinema and the wall leading to the bridge was packed to capacity with a very hostile crowd of people.

As Jack made his way through this hostile crowd no more heroes broke from its ranks to try and impede him. Jack was 6'6" tall and resplendent in black evening suit and traditional red carnation, as he made his was to his waiting taxi, his parting gesture was to kiss a few local girls, and then he was gone, not certainly not forgotten."