<< Back to Main Local Interest page
It was in the first week of December 1991, that our now familiar Lucan By-pass Officially Opened.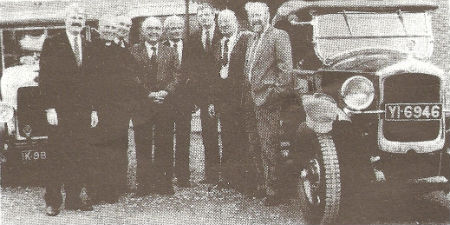 Pictured at the event were L-R: Cllr. Finbarr Hanrahan (FF) Lucan , Rev. Fr. J. Loughran (Esker), Cllrs. Ned Ryan (FF) Castleknock; Michael Gannon (Labour) Lucan; Tommy Boland (FF) Navan Road; Deputy Liam Lawlor (FF) Somerton, Lucan; Sean Walsh, Chairman Dublin Co. Council, and Senator Brian Fleming (Fine Gael) Palmerstown.

Recently, we have acquired some photos taken during the construction phase – Top picture shows the area outside the Spa Hotel gates across to the Demesne, and the entrance to the tunnel which led from the Spa Hotel grounds to the Sulphur Spa in the Demesne is still visible. This tunnel is long disappeared under the new road.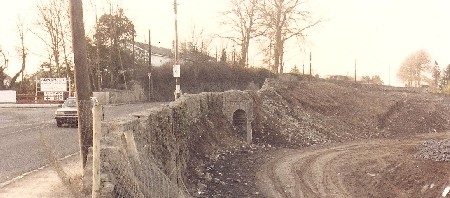 Below is a shot from the now Mill Stream Road, showing the construction of the bridge over the Old Celbridge Road. The traffic can be seen still coming down the old Leixlip Road in the distance.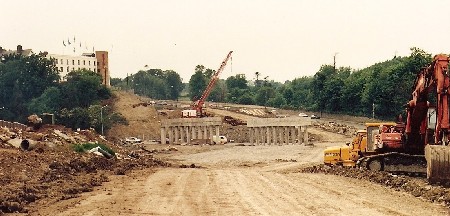 Many thanks to Kevin Byrne for the construction photos – he's the only person I know who trod around in the mud at the time, all in the cause of local history!

M.M.