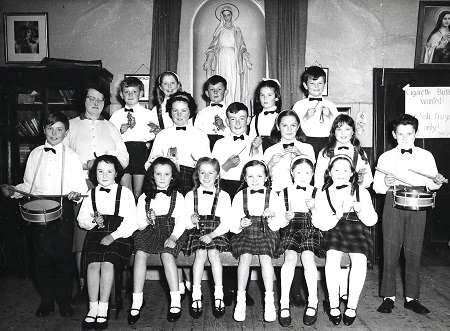 The Kinclare Percussion Band, run by Mrs. Handibode of Ballydowd, was a very popular little group in the 1960s. At this time every year, they headed off to the annual Feis Mathiú, coming away with several prizes. They also featured on many Radio Eireann programmes.

The instruments included: Triangles, Bells, Tambourines and a couple of Drums. The uniform for the girls was a kilt and white blouse, while the boys wore dark grey pants with white shirt.

The above photo was taken in the old St. Anne's Hall, now part of the Convent – this hall which was used by many groups over the years, was adorned with pictures of the saints and a large statue of Our Lady.

Pictured from L-R:
Back: Edward Buggle, Rena Cully, ?, Ann Mills, ?
Mid: Martin Speight, Mrs. Handibode, Maura Campbell, Michael Henry, Catherine Keane, Valerie Speight, Joe Handibode.
Front: Kathleen Campbell, Annette Poynton, Anna Nolan, Marie Corway, Madeline Cully, Carol Burke.

Mrs. Handibode also gave Piano and Accordion lessons, and for many years she played the church organ in St. Marys.

At Christmas time, she rounded up members of the church choir to go carol singing in St. Edmundsbury among other places.

The Kinclare School of Music was certainly a great introduction to music for kids of the day – one still remembers playing The Blue Danube on her bells!