<< Back to Main Local Interest page
On one of his visits to Lucan, back in 1941, Fr. Francis Browne SJ, armed with his camera, recorded scenes in the vicinity of St. Mary's Church.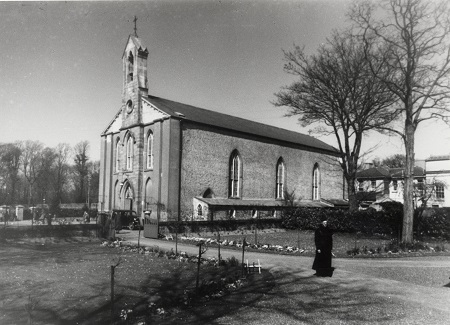 Among the subjects captured were St. Mary's Church, with the original bell-tower, and passage along the side leading from the sacristy to the choir up in the gallery. Note also, the Acacia tree which is still standing today, next to the church. The priest in the foreground, standing where the parish centre is today, is I believe Fr. Hook, then Curate in Lucan. The convent is visible in the background.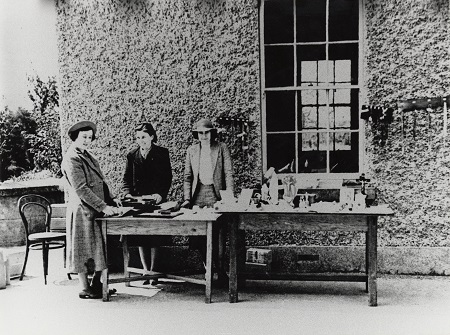 Still within the church yard, the scene below is titled Legionaries, and the three ladies were probably members of the Children of Mary Sodality. They appear to be selling rosary beads, scapulars, holy pictures etc, from their tables, possible during a Retreat. The lady on the left is Mary Joe McGovern from Chapel Hill, a legend in her own time. If anyone knows who the other two ladies are, please let us know!

Born in 1880, his first introduction to photography was in 1897, prior to joining the Jesuits, when he went on a Grand Tour of Europe. At the time, his uncle Robert Browne, Bishop of Cloyne, gave him his first camera, and off he went on his adventure with a keen eye for photos.

He came to world attention some years later when he took many pictures of the ill-fated Titanic. Again, his uncle had a hand in this, giving his nephew a gift of a ticket to travel first-class on the leg of the journey to Cobh. His photographs of passengers and crew were published world-wide at the time.

In 1915, he became chaplain to the Irish Guards, and was the most decorated chaplain in WWI.

Over the next 40 years or so, Fr. Browne recorded life in the emerging Republic of Ireland, and also some fascinating subjects from his travels to Australia, and other places. Up to the 1950s, there were some 42,000 negatives from this period. He was described as a master photographer with an unerring eye.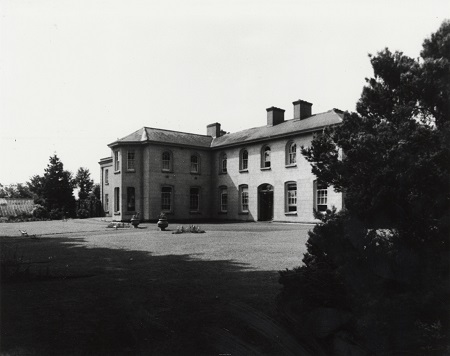 At Lucan, he also photographed Presentation Convent, long before the oratory was built to the left of the building in the picture.

He would have been 61 years of age at the time he visited Lucan, taking these photos.

Fr. Browne died in 1960, and for many years, his photographs and negatives lay stored in a metal trunk in the basement of the Jesuits Provincial House, until they were discovered in 1985 by Fr. Edward O'Donnell SJ.

Unfortunately, a good half of the negatives were badly deteriorated, but sponsorship was obtained, and work began on preserving the collection, which has since been exhibited all around the world.