Ringing the bell………
Now and again old Lucanians recall ringing the bell in St. Mary's while they were only schoolboys.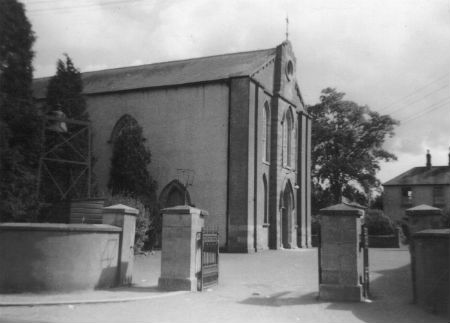 In the 1940s, the bell tower became unstable, and it was decided to take the bell down and mount it on a frame just to the left of the church gate.

There the bell remained until 1974 when the church extension was built and it was once again placed on high in a new tower – that particular tower has since been replaced with a newer version.

Before Lucan BNS moved from the churchyard to Chapel Hill in the mid 1960s, the older boys came out from class every day to ring the Angelus! There they dangled from the ropes like monkeys – two or three of them at a time! It is such a pity we don't have a picture of any of them ringing that bell. No doubt, Jim Cullen who sent in this photo (and the one below) was one of the bell ringers!

Incidentally, the small kiosk between the gate and the bell was where the Newsletter was sold as well as Non Stop Draw Tickets every Sunday morning. Come Monday morning, Marjorie Donnelly was collecting the Hot Chocolate money for the lunchtime drinks in the girls school – these sponsored by Muintir na Tire!
Another Lucan 'Church'!
Recognise this?
It is the 'dummy' church, which was part of the set for The Blue Max (1966), much of which was filmed at Weston Aerodrome.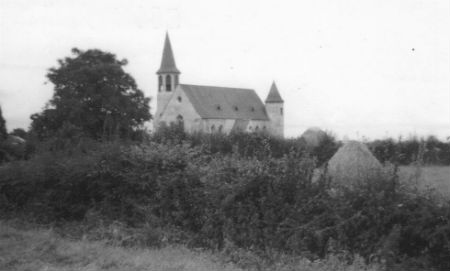 The 'church' was in Tynan's field in Cooldrinagh.

George Peppard, Ursula Andress and James Mason were the stars in this World War I classic, which will probably surface once again now that the centenary of the Great War is on us. We were like a little Hollywood for a few months back then!

I wonder if any locals ever met the stars of The Blue Max! Drop us a line if you did, or if you have any pictures, we'd love to see them.

Email: Mary@lucannewsletter.ie