This week (7/7/13), we delve in our archives to give you a snapshot of Lucan 40 years ago.

St. Mary's Parish
In the first week of January 1973, the Planned Giving envelopes amounted to £226.33. Appeals for increases were made regularly in preparation for the new church extension. Sunday night Bingo in the old Boys School was a further fundraiser at the time.

Work began on the church extension in February 1973. The contract price was £51,000 which included all access routes and the overall structure work. It was pointed out that in an effort to support local workers, all blocks used in the building would come from CPI.

The job was completed in early 1975, and it was expected that while it was the first major job in the church since its foundation almost 140 years ago, such a big job would not be warranted for that length of time again.

Lucan Schools
Lucan BNS: Mr. Noel Noonan became Principal of Lucan BNS – he had been teaching there since 1963.
By May, work had begun on the boys school extension – a 12 room x 3 storey block.

St. Joseph's Post Primary School: The school was officially opened and blessed in May, by Minister for Education, Mr. Dick Burke, and Archbishop of Dublin, Dr. Dermot Ryan.
(Archbishop J.C. McQuaid had died in April).

Coláiste Phádraig: The school organised a '10 Mile Mystery Walk' to raise funds for the school – it's still a mystery where the walk went! There were no follow-up reports on this one.

St. Mary's GNS: The weekly non-stop draws were very popular. At 1/- per ticket, there were seven prizes – one for each day of the week:
Sunday £10
Monday£1
Tuesday £1
Wednesday £1
Thursday £2
Friday £3
Saturday £5
You could to a lot with just £1 back then!
Tickets were sold all over Lucan – from a kiosk after all the Sunday Masses, and from pubs and shops around the village.

The Annual Sale of Work was a big event for the girls school – from September on, the nuns and many locals would be going mad knitting and crocheting, baking Christmas Cakes and doing lots of various things to help out. When the great day came, there was a great buzz about the place with wheel of fortune and bottle stalls etc.

Community School: In April, the idea of a Community School for Lucan was completely dropped.

The New Estates
Hillcrest was the biggest estate being built in Lucan at this time – work had begun around 1969, and it would not be complete until the late 1970s. Planning permission had been granted for 999 houses.

There were concerns that there were no proper amenities such as shops for the new residents. Roads were unfinished and people often had to trudge through muddy patches to make their way out of the estate. Throughout that year planning applications appeared for development at Esker Glebe, Woodview, Esker North and Beech Park.

Lucan Community Council
The group had been formed a year earlier, and tried to keep people abreast of things in some very fast moving developments with lands and schools.

They were also concerned about our Tidy Towns status. In 1973, Lucan was entered in the 3,000 – 5,000 population group. We scored a lowly 91 out of 150. Discussions were held on how best to increase our score.
Changes in Lucan Village
The first set of Traffic Lights appeared – at the junction of the Methodist Church/Courtneys corner. By the end of the year, there were proposals for a second set – at the top of Chapel Hill beside the present St. Andrew's School.

Bank of Ireland were seeking permission to build a new bank in Giltraps yard (beside Kennys).

AIB had purchased the ruined Kangaroo site, and were planning on turning it into a car park for the bank.

A new Post Office appeared at the bottom of Chapel Hill – Mrs. Tansey was the Post Mistress.

Lucan's first Travel Agent, Gerry Cosgrave, set up business at Crowe's Corner – on the corner of the old Leixlip/Celbridge Road junction.

Great Foresight!
A Compulsory Purchase Order was made for 115 acres at Esker. 42 acres would be used for amenities. This was actually the start of Griffeen Valley Park. Such foresight 40 years back!

Politics
Ireland joined the EEC – European Economic Community in 1973.

A General Election took place in February, and it was lamented that none of the TD's representing us actually lived in Lucan.
Our constituency then was Dublin County North, and seats were taken by Ray Bourke FF, Mark Clinton FG, Justin Keating Lab and Sean Walsh FF.

A Presidential Election was held in May. Eamon De Valera had completed his second term, and Fianna Fail's Erskine Childers won the election over Fine Gael's Tom O'Higgins, to become our next President.

Local Groups
Lucan Drama produced The Plough and the Stars, and later in the year, Sive. Both plays were held in The Hitching Post in Leixlip – there must not have been any suitable local venue at the time.

A Macra Na Tuaithe Club and St. Mary's Youth Club catered for many of the youth.

The Kinclare School of Music – Mrs. Handibode was the music teacher, and apart from her individual pupils, she had a percussion band which many little boys and girls aspired to.

The local I.C.A. was still a young organisation and busy with all kinds of crafts and ventures.

In sports, we had weekly reports from Lucan Sarsfields, Grade Ten Canoe Club, Lucan Golf, Lucan Celtic AFC, Dodsboro AFC, Lucan Pitch & Putt and Darts.

All Ireland Finals
In Hurling it was Limerick 1.21 – Kilkenny 1.14.
In Football it was Cork 3.17 – Galway 2.13.
What a change! We were used to seeing cars going through flying their county colours on All Ireland Final days – many stopped off for Mass in Lucan on their way to Croke Park.
The 1970's saw big changes – people from all over Ireland took up residence in Lucan and within no time at all, we must have had 32 county representation amongst us.

Northern Ireland
The troubles rumbled on in Northern Ireland, and a fund was set up to enable children from the troubled area to spend a holiday down in the south.

Some things never change…..
We were worrying that oil was becoming scarce, and also about the depreciation of the dollar and sterling on the world stock exchange. In three months the value of the Irish £ dropped by 1/7. There was much speculation about inflation and political instability worldwide.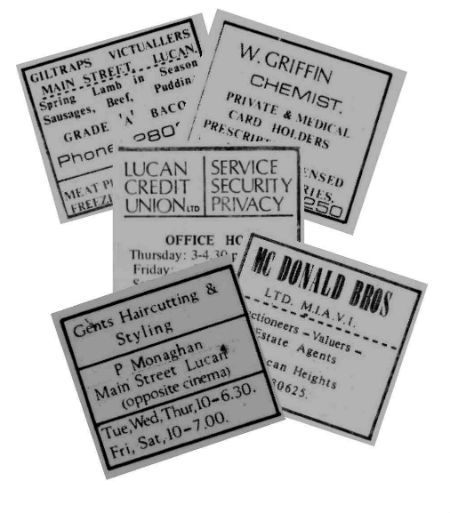 A piece of advice.......
Think of a Postage Stamp –
Its usefulness is in its ability to stick to one thing 'till it gets there!

Lucan Newsletter
Lucan Newsletter was just 6 years old, and due to the increase in costs, the weekly issue was raised from 2p to 3p. At this time it was sold only outside St. Mary's after Sunday Masses. The circulation was about 500 copies per week.

These pages contain a sample of some of our advertisers back then – some thankfully still on the go today!

We hope you enjoy the memories – you wonder can it really be forty years ago since all this happened!

Mary Mulhall