As a child from the heart of the village of Lucan in the1950s/60s, my knowledge of a stud farm in Dodsboro was very limited. One of my grannies lived in Dodsboro, and on usual Saturday visits my brother and I often walked the length of the high wall between Langan's Shop (now Spar Dodsboro) and Dodsboro Cottages. On either side of that wall was a high drop – one to a grassy bank on the roadside, the other into Capt. Rogers field, which sometimes had horses grazing in it. It was a great feat to complete the length without falling off!

Another memory which comes quickly to mind is of children playing on the haystacks in that same field, while keeping an eye out for Capt. Rogers who would be very annoyed at them for pulling down his haycocks, undoing much hard work.
A Thriving Industry
A few months back, I was prompted by a former Dodsboro resident to write an article on Airlie Stud, only to realise that there was a very fine bloodstock industry once thriving in Lucan from the early 1950s into the 90s.

Operated by the Rogers family, whose dynasty if you like, goes back to 1915 when former jockey Jack Rogers arrived in Ireland and began the business. In 1940, he was succeeded by his son, Capt. Darby Rogers who in turn had two sons – Mickey who won the Epsom Derby among other things with the great "Santa Claus", and Tim.

It was Captain Tim with his wife Sonia who founded the famous Airlie Stud on Tandy's Lane in the early 1960s. Previously, this land had belonged to Tim's father, Darby and William Barnett.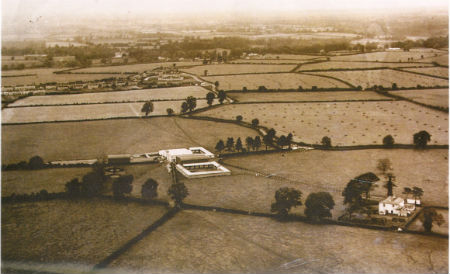 This photo from the 1950s shows Airlie House on the right with the stud building to the centre. In the distance are Dodsboro Cottages, and all around are the fields which are now filled with modern estates.

The stud was a hive of activity employing a staff of 15 as well as a vet and farrier to look after the valuable animals. The stud even had its own laboratory from the early 1980's.

Up to 5 people were employed in the offices, and the family home, Airlie House also had its own staff. Such was the reputation of the Stud that numerous people from abroad came to learn their trade.

Seasonal work was a big feature when men from the Dodsboro area would be hired to gather the hay, and many a young fellow had part-time work on Saturdays and holiday times.

Work was hard with the basic day being from 8am to 5pm, but during foaling season, the workday could stretch through the night, such was the nature of the job.

The covering season ran from early February to July each year, and up to 80 mares and 3 stallions were accommodated at any time.

The extensive property ran on both sides of Tandy's Lane at one point, and stretched down as far as where Dodsboro Post Office is now. At one time, there were 9 boxes for horses situated just behind the present post office, and locals will also remember a few circus caravans parked here when those families had a change of career and came to work for Capt. Tim.

Names like Thompson, Sullivan, O'Neill, Byrne, Dobbs and Maher are just some of the Dodsboro names, which will always be associated with the business.