<< Back to the main Local History page
Recently, local historian, Joe Byrne gave a talk in Lucan Library on the Lucan Spas and Hotels. Below is an interesting piece from that talk.

The original Spa Hotel was on the site of what is now the County Bar and dates from around the 1760s.

The Spa Well went out of favour with the public from around the 1830s and in 1837/38 a School took over the Hotel. This was the School for the Sons of Irish Clergy which had been only established in 1836 in Edgeworthstown.

The School was for boys between the age of 9 and 12 years of age and was free to those who were in difficult financial circumstances.

Up to 120 boys were accommodated in the building. Typical school day (6 days a week) was as follows.

Rise 5.45am, Class 6.30 am to 8am, Class 10 to 12, Class 2 to 4. Study for next day (homework) was 5 to 7. Bed 9pm.

The School left the premises in or around 1853, and in 1857 became Dr Steward's Spa House Asylum for children with disabilities.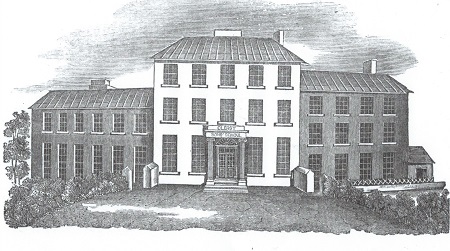 A drawing of the School found in their annual report for 1840

The right-hand side of the building is now not there (demolished in the late 1880s) but otherwise you can easily identify it with the present County Bar.